Overview:
The smart charger hardware, firmware and communications were built with the following specifications
Intelligent, micro-controller controlled buck conversion charger design

4 to 75VDC input

0 to 75VDC charging output

Hardware over current limiting with 30uS response time making this charger short proof with a hardware programmable set point for over current threshold

Current sensing from 0-10 amps with 8mA resolution

Isolated CAN communications

Can act as a slave to a master controller, a PC or act as a stand alone charger with built in direct differential communications to LTC6802 slaves without the use of a master

Built in interface to LCD display

High accuracy 5.12v A/D reference design for 5mV resolution A/D

Programmable for 1 to 12 series Li-ion cells with CC/CV (constant current/constant voltage) output
The above picture shows the main smart charger board. I ended up taking a fair bit of the BMS board and incorporating it into the charger electronics so that it could function in a number of different configurations.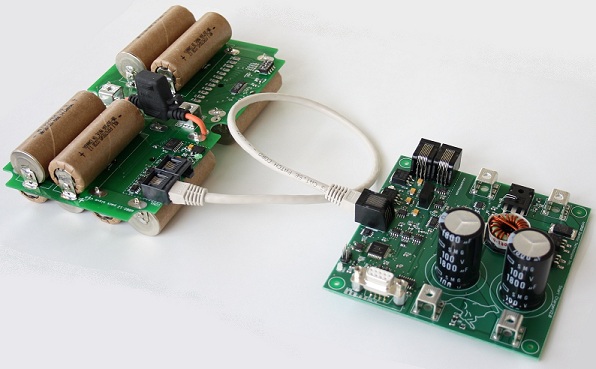 The smart charger uses the same method of differential communications so it can communicate directly with the Linear LTC6802 boards in a daisy chained fashion. One board is shown here but a maximum of 16 could be used.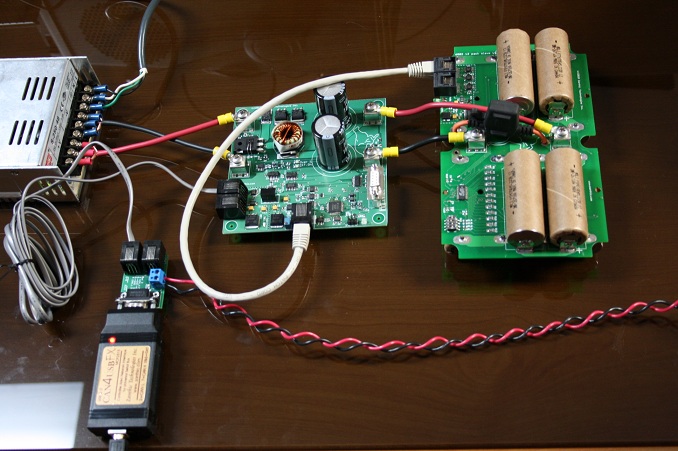 This is a complete, working setup with power coming from a DC power supply (left) and flowing through the smart charger. The CAN-4-USB/FX interface is connected to a PC that is running configuration and monitoring software. The DC input can be up to 75 volts but can be throttled back to charge a single cell if needed. The 12 cell pack shown will have a final charge voltage of 50.4 volts. There are a number of isolation points in this system. The CAN bus, and therefore the PC, are isolated and the 6802 communications are isolated as well. This means the CAN bus ground, the power supply ground and the 6802 communications bus ground are all isolated.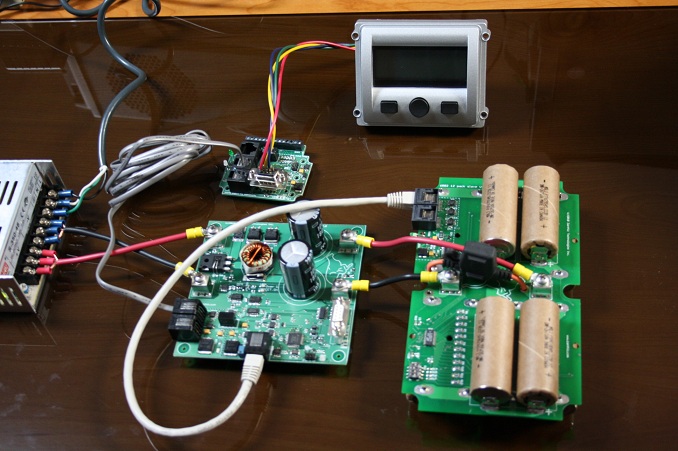 In this configuration the smart charger is taking its commands from the BMS. If you haven't already looked, you can see all the features of the BMS board here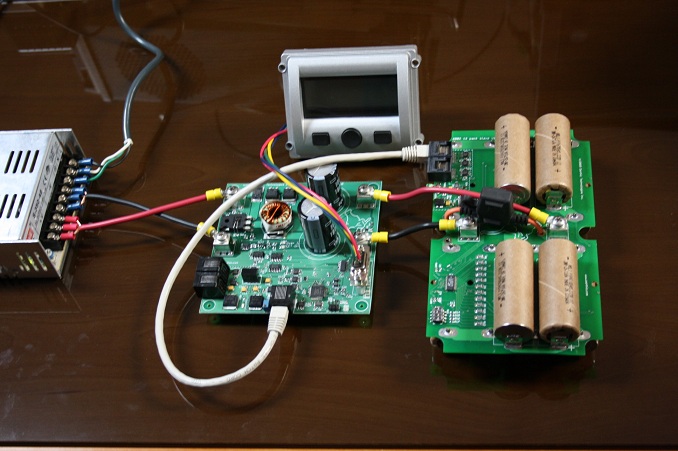 Yet another configuration would be to have the smart charger work in a stand along mode and have charging information and simple configuration choices displayed on the LCD screen.